If you are moving from Fort Myers to the Tampa Bay Area or from Tampa to Ft. Myers, choose Paul Hauls Moving and Storage. At Paul Hauls, our fast and friendly movers will ensure that your move is trouble free. We have an excellent reputation and we deliver on expectations.
Benefits at a Glance:
Full Moving Services
Competitive Pricing
Fast And Friendly Staff
Expert Packers
Local and Florida Moves
 "Extremely knowledgeable regarding how to move any size piece. They were courteous and respectful. The amount of time Paul estimated it would take was right on the money." –Barbara
See What Customers Are Saying On Google.
Choose A Local Florida Moving Company
It does not matter if your moving company is located in Fort Myers or Tampa. The cost is the same. You may think that a national carrier with offices in both locations will cost you less, but that is not really the case. National carriers are often more expensive than local Florida-based moving companies. And if you are moving within Florida, there is no reason not to choose a quality local Florida moving company.
The one thing you want to be sure of is that the moving company you choose has a good reputation. Reputation is important. There are disreputable movers that need to be weeded out. However, a quick look at the reviews and the website should give you a clear idea of the quality of the  moving company. We post tons of moving pictures from all kinds of moves, so you know what you are getting. More often than not, you will see the same people at your move that you see in the pictures.
What To Expect On A Tampa — Ft. Myers Move
First, almost all moves between Tampa and Ft. Myers can be made in two days. We do the packing one day, and then finish the move on the second day. This is a lot less stressful on both the movers and the family. Packing on the first day ensures that the proper time is taken to pack and load so that nothing is lost or damaged.
When you call, we can help you with the planning. We have helped families move all over the state, so we know how to move efficiently and how to save our customers money. Give us a call today.
Ft. Myers Southwest Florida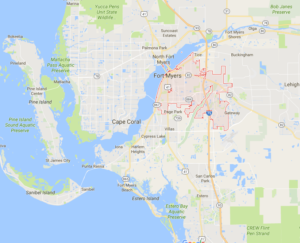 Many people looking to move to West Florida, end up either in the Tampa Bay Area or down around Ft. Myers to the south. Ft. Myers is located in South West Florida on the Caloosahatchee River. It is a very popular place to live due to its location. It is the final metropolitan area going south on the western side of Florida. There are many fun recreational activities in the area and a metropolitan area large enough to host many comforts of city life and fun attactions.
Ft. Myers is across the river from Cape Coral. Sanibel Island, a popular destination, is a short drive west from Ft. Myers. And if you head in the other direction, you find yourself in the country an not too far from the Everglades.
Ft. Myers, Cape Coral, and the surrounding metropolitan area is home to over 600,000 residents.
The Caloosahatchee River is popular with boaters because it is the only inland boating route between West Florida and East Florida. If your boat is not too big, say under 45ft and drawing 5ft or less, you can take the Caloosahatchee River to Lake Okeechobee, and across to Stuart on the West Coast. If you are planning this trip, you will first want to talk to Florida Fish and Wildlife to see if there is enough water for the passage.
Ft. Myers is a thriving place with many things to do. Excellent fishing waters, fantastic pleasure boating. Many nearby rivers to explore in a kayak or skiff.
Ft Myers Links