Benefits at a Glance:
Full Moving Services
Competitive Pricing
Fast And Friendly Staff
Expert Packers
Local and Florida Moves
"Extremely knowledgeable regarding how to move any size piece. They were courteous and respectful. The amount of time Paul estimated it would take was right on the money." –Barbara
See What Customers Are Saying On Google.
Gulfport Movers You Can Trust
Are you looking for Gulfport movers? A fantastic local moving company that is reliable and affordable? If so, you have come to the right place. We provide moving services for residents and businesses in Gulport, Florida.
Family-Owned Gulfport Movers
Our moving company is family-owned and operated. Some people like to move with the national carriers, and others like to move with local family-owned moving companies. We feel, and hope you agree, that family-owned movers are the best value.
When you move with us, you are moving with a proven moving company. We have a A+ rating with the BBB and have been moving people and businesses in Florida for many years. Take a look at what our customers are saying.
Our movers are friendly and quick about their business. Our movers are excellent packers and take great care with your belongings. Our movers are affordable and reliable. That is what you get with a local family-owned moving company.
Call and ask about our pricing or fill out our free online estimate.
More About Gulfport, Florida
Gulfport, Florida is on the northern tip of Boca Ciega Bay. It is charming little city in Pinellas County, just west of St. Petersburg. Gulfport has a lot of the 'Old Florida' feel to it. I always think of it as a sleepy little town when I'm down there. As you can see from the image below, there is access to the water from Gulfport. The Waterfront District is full of small shops and restaurants within walking distance. It is a great destination for an evening out or as a place to call home. It's proximity to St. Petersburg means that there is access to jobs and all the activities you would associate with living in a large metropolitan area while enjoying small town comforts.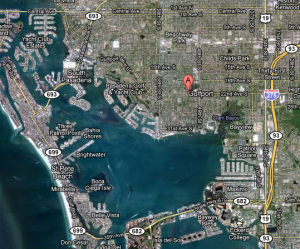 If you are not thinking about moving to Gulfport, Florida, you may want to start now. This is a great time to move to Gulfport. Housing prices are down and apartments can be had at a great value. Our movers will get you there in a timely and affordable fashion. Don't hesitate, call today for a free quote.
Paul Hauls Moving and Storage Service Area includes the Entire State of Florida and Beyond: