If you are moving from Jacksonville to the Tampa Bay Area or from Tampa Bay to Jacksonville, choose Paul Hauls Moving and Storage. At Paul Hauls, our fast and friendly movers will ensure that your move is trouble free. We have an excellent reputation and we deliver on expectations.
Benefits at a Glance:
Full Moving Services
Competitive Pricing
Fast And Friendly Staff
Expert Packers
Local and Florida Moves
 "Extremely knowledgeable regarding how to move any size piece. They were courteous and respectful. The amount of time Paul estimated it would take was right on the money." –Barbara
See What Customers Are Saying On Google.
Choose A Local Florida Moving Company
It does not matter if your moving company is located in Jacksonville or Tampa Bay. The cost to you is the same. You may think that a national carrier with offices in both locations will cost you less, but that is not really the case. National carriers are often more expensive than local Florida-based moving companies. The one thing you want to be sure of is that the moving company you choose has a good reputation.
We often move families from the Tampa Bay area to Jacksonville. Recently we moved a family from Belleair Beach to Jacksonville. You can see some of the pictures from the move below. These are real pictures of real moves. You can see pictures of many of our moves in Tampa and Florida on our Pinterst page.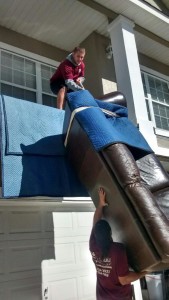 If you are moving between Tampa and Jacksonville, what can you expect? When we move clients from the Tampa Bay area to Jacksonville, we prefer to do it in a two-day move. On the first day we help you pack all your belongings and load the trucks. On the second day, we drive to your new home in Jacksonville and unload.
We can tailor moves to your needs. If you absolutely need to do the move in one day, we can do it for many single family homes. With an express move of this distance, you will need to have your things packed up the day before and ready to load in the morning. And if you have a lot of things, you really don't want to make the move in one day. For almost all moves between Tampa and Jacksonville, we recommend doing the move in two days. When you are moving, less stress is an important consideration.
More on Jacksonville
Jacksonville is the largest city in both numbers and size in the state of Florida. There is a lot going on in a place that big. It has an NFL football team, great sports fishing and outdoor activities, and many other great attractions. It is a major civilian and military deep water port. And it is a major destination for golf tourism. Jacksonville is a vibrant metropolitan area with a lot to offer.
Some Fun Jacksonville, Florida Links
Paul Hauls Moving and Storage Service Area includes the Entire State of Florida and Beyond: