Benefits at a Glance:
Full Moving Services
Competitive Pricing
Fast And Friendly Staff
Expert Packers
Local and Florida Moves
"Extremely knowledgeable regarding how to move any size piece. They were courteous and respectful. The amount of time Paul estimated it would take was right on the money." –Barbara
See What Customers Are Saying On Google.
Tampa Movers You Can Trust
Looking for a mover in Tampa, Florida? Paul Hauls Moving and Storage is an excellent choice when you are looking for movers in Tampa. We are a family owned and operated Tampa  moving company serving the greater Tampa Bay Area. Our Tampa movers are friendly and hard working. We take great care when packing and moving your belongings.
A+ Rated Local Movers In Tampa
We have an A+ rating from the BBB. You will notice the difference when you move with us. We have well maintained moving equipment and one of the largest moving trucks in Tampa. Tampa area  residents will not be disappointed with our movers. We are the best family-owned moving company in Tampa.
Call and ask about our pricing or fill out our free online estimate.
More About Tampa, Florida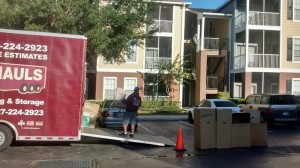 Tampa is at the north end of Tampa Bay and has about 330,000 residents. It is the third largest city in Florida after Jacksonville and Miami. Tampa is a part of the Tampa-St. Petersburg-Clearwater metropolitan area, the second largest metropolitan area in the state and one of the largest in the Southeast US. The Tampa Bay Area comprises of 4 counties and has around 2.7 million people.
Tampa Bay Area has everything you can ask for in a place to live. The bay is large and beautiful.  Tampa hosts Florida's largest port in both tonnage and and area. It is a water gateway to a market of over 8 million people within 100 miles of the port. It is host to major cruise lines and it is one of the major shipbuilding and repair facilities in the Southeast.
The Tampa Bay Area is also a host to a number of sports teams, such as the Tampa Bay Buccaneers football, Tampa Bay Lightning for hockey, and the Tampa Bay Rays for baseball. Tampa has many more options for sports entertainment.
Tampa Is Great For Active Lifestyles
Forbes, in a survey conducted in 2008, rated Tampa as the 5th best city in the US for outdoors activities. Tampa has a tropical climate that is great for being outdoors, although it can get a little hot and muggy in the summers. You can enjoy outdoor activities all year around. There are lots of parks and many activities on the water, such as fishing, kayaking, a variety of cruises, and simply enjoying the beaches around the bay.
To get in out of Tampa, there is the Tampa International Airport. It has been in business for over three decades and was the first airport designed liked a spoke wheel. today Tampa International Airport has flights that go all over the work and US. It has even begun flights to Cuba!
There is a lot to say about Tampa, but we will leave it at that. Come and visit and see for yourself.
Paul Hauls Moving and Storage Service Area includes the Entire State of Florida and Beyond: