These guys were awesome. Looking forward to future projects.
— Jim Busch, Innisbrook Golf Resort
Benefits at a Glance:
Full Moving Services
Competitive Pricing
Fast And Friendly Staff
Packing Services

Local and Florida Moves
"Extremely knowledgeable regarding how to move any size piece. They were courteous and respectful. The amount of time Paul estimated it would take was right on the money." –Barbara
See What Customers Are Saying On Google or Yelp.

Largo Movers You Can Trust
Looking for a mover in Largo, Florida? You have come to the right place. Paul Hauls Moving, Packing and Storage is a Largo moving company and an excellent choice to move yourself, your family, or business. We are a family-owned moving company and we know how to treat our neighbors here in Largo to the best moving experience.
Paul Hauls is a professional moving company. We have an experienced crew that is fast and careful when moving you belongings. Our large truck can move just about any size household in one move. Choose our Largo moving company and you will have a safe and satisfying move.
Call us today for pricing and information. You'll be glad you did.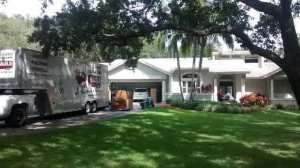 More About Largo
Largo is centrally located in Pinellas County and boats a population of around 75,000 people. Today Largo is known as a bedroom community and most of the jobs in Largo center around residential services, real estate, and the health care industry. It's popularity comes from its location. It is easy to get to most places from the beach to Tampa. Largo schools are well regarded and makes Largo an excellent choice to raise a family.
Up until the 1960's, Largo was a agricultural community. The McMullens were among the first homesteaders in the Largo area. They and other homesteaders, raised cattle, grew citrus and vegetables and fished. The agricultural economy had steady growth up until the Great Depression. The Great Depression negatively affected Largo up until the end of WWII. It was then that some new businesses came into the area and Largo began to grow significantly again.
For more information on Largo, take a look at the Largo website.
Make your move with Paul Hauls Moving, Packing and Storage Company. The best Largo movers in Pinellas County, Florida and a great choice for Largo residents on the move.

Paul Hauls Moving and Storage Service Area includes the Entire State of Florida and Beyond: