If your not convinced by the testimonials below, take a look at what our customers are saying on Google Places.
Animal Planet Testimonial for Paul Hauls
Paul,
I want to thank you again for the wonderful job you and your workers did during our move. Moving our entire corporate office to a new location was definitely a concern for us. We met with several other moving companies while we were getting estimates and your company stood out, not only because of the very competitive price, but because of the straightforward manner in which you went over the details of each cost and your attention to the specific needs of our company.
When moving day arrived you were right on time and extremely efficient. You communicated with me throughout the move so that I always knew what was going on. Everyone was friendly and I have never seen a moving crew that worked so hard.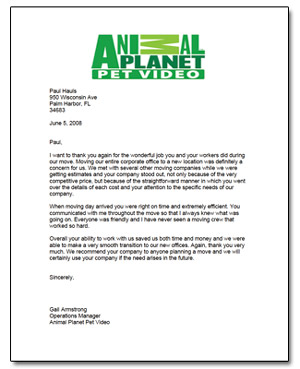 Overall your ability to work with us saved us both time and money and we were able to make a very smooth transition to our new offices. Again, thank you very much. We recommend your company to anyone planning a move and we will certainly use your company if the need arises in the future.
Sincerely, Gail Armstrong Operations Manager Animal Planet Pet Video June 5, 2008
Gail Armstrong
Animal Planet
Greetings Paul!

Things are starting to get to normal around here, and I wanted to drop you a note to thank you for a job well done in moving my dad from his apartment into our house. We've moved ourselves and my dad at least a dozen times over the years, some by doing it ourselves and some with professional movers, and this is the first move that nothing was broken, scratched or even nicked as far as we can tell. You and your team were, totally professional, hard working and especially kind to us and my dad.

I researched movers on the BBB Web site and selected to contact you because of your excellent track record. By our phone conversations I believed you were our best choice and you did not let let us down. You met and exceeded our expectations.

Again. Thank you for a job well done.

Craig R. King
Safety Harbor, Florida
"What a relief it was to greet Paul at our home. All of his equipment was clean and aroma free. His plan was well thought-out and easy for us to understand.

Every piece of our lives was carefully loaded by Paul and his assistant, then well secured for the hour-long haul. New comforters and straps were used to protect our belongings from rubbing on anything! Our furniture was loaded last and nothing was stacked on any of it.

Upon arrival, Paul toured our new home with each of us. He asked where we wanted our furniture and boxes placed. His van was unloaded carefully and quickly. Once everything was in place, Paul asked if all was as we wanted it. It was!

Nothing was damaged. Every box and piece was exactly as we had packed it. We toured his van again, at his behest, to assure that all of our possessions had been moved.

At this writing, one month after our move, everything Paul moved has been accounted for. I would recommend his expertise to any family."

Sincerely,

Donald E. Sheppard
Seminole, FL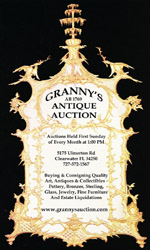 "We use Paul Hauls for all of our moving needs. They are prompt, affordable, courteous and professional. We recommend them to all of our clients. A-One Service!"
Nels Gullenrud
Granny's Auction House, Inc.
5175 Ulmerton Road
Clearwater, FL 33760
Nels Gullenrud
Granny's Auction House, Inc. Clearwater, Florida
"Mr. Paul Vios has been associated with O'Laker's Moving, Inc. for 7 to 8 years now. Paul's enthusiasm and professionalism in providing excellent service are tops in the moving industry.

As a person, Paul is caring, loving, and compassionate. Integrity is his cornerstone in how he conducts his personal and business affairs.

Paul operates with his own equipment and personnel. We enjoy the opportunity in building future business relations together."

Ken Nelson
Vice President
O'Laker's Moving, Inc.
Tampa, FL

Ken Nelson
O'Laker's Moving, Inc.
Paul was very helpful and accommodating with our move. He settled a lot of our fears by providing a high-caliber service at an affordable price.

He was very careful with our items and insured their safe arrival. I have recommended him to move all our friends and family."

Sincerely,

Kimberly Rodriguez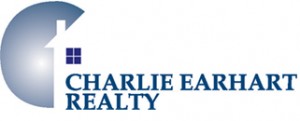 Dear Paul,
I want to personally thank you for all your help over the past year moving me and our customers. Thanks especially for the full service move on the Sandpiper Ct. property. We would not have had our closing without your help.
Be assured that Charlie Earhart Realty always recommends Paul Hauls to our clients.
Sincerely,
Thomas M. Tucker
Owner/Broker Charlie Earhart Realty
Thank you for the most "Perfect Move"; even better than expected or from the testimonies that have been left on line. Would not even think of using anyone else to move me in the future.
Clearwater, FL

Bobbi C.
Just wanted to let you know how pleased I am with the job that Pete and Rob did loading the PODS. What hard workers! They were so diligent and careful of how they loaded everything. I couldn't have been more pleased. It was a pleasure to give them a well-deserved tip at the end of the day.
I'm glad I found you on the Internet. Keep up the good work and continued success to you!
Randall Richter
Dear Paul:
I'm not the "logging in" type, so I don't go on Facebook and would rather not open an account on Manta.
However, I would like to tell you that your employees are wonderful.  They really did make the difference.  My move was Saturday, September 8th, 2012, and it was a hot day outside.  Your guys came in the afternoon and busted their butts until they were done - which ended up to be fairly late on Saturday night (at least as far as I'm concerned!!).  I was ill with a virus and had been for a few days.  I was not at all prepared.  And boy, did I have a lot of stuff!!
Your guys (and please don't tell them I don't remember their names - I should) were polite and extremely patient.  They worked their BUTTS OFF without hardly breaking.  I'm pretty sure I paid for 5 or 6 hours, and they were hustling the whole time.  It wore me out to watch.  They had to help pack; they had to wrap odds and ends up; I was completely disorganized; and I was moving from an upstairs apartment.  It was grueling to watch.
They got the bulk of my stuff here to my new house.  They didn't damage the house getting heavy and big stuff situated.  I haven't unpacked everything, but nothing got broken or torn up in any way.  Their performance was outstanding, not to mention they took a load to the dumpster for me and ended up having to back up about a quarter mile to turn the truck around.
I would recommend Paul's to anybody, especially people who have really nice things.  They had great techniques, too.  You are right - quality employees make the difference.  I was very happy with the movers.  They were absolutely worth every penny, and I tipped them pretty darn well.
You can use any and all parts of this email on anything you want.  Your guys rock!
Thanks
Jennifer Komarek