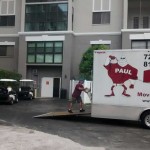 We were recently at the Regency Oaks in Clearwater moving a residents belongings. The Regency Oaks is an assisted living facility. We do our fare share of moving to and from assisted living facilities in Tampa Bay. Usually, when a loved one can no longer take care of themselves and need help or someone passes away we help with the move.
If you are familiar with Pinellas County, you know that it is one of the premier retirement locations in the country. It is affordable, has excellent care services, and is close to wonderful recreation and vibrant city activities. If you are retiring, you can enjoy the great outdoors and go to the theater all in the same day.
How do you choose?
First thing to look at is reviews. Many assisted living facilities have Google+ pages and reviews on other sites such as Yelp and Yellow pages. This is always a good place to start the investigation.
Then search on the business name and look for articles about the place. When you do a 'brand' search, you should also do searches that include words like trouble and complaints in the search. If you do see negative reviews and opinions, remember that is impossible to please everyone, so if there are a lot more positive reviews than negative, then the assisted living facility is probably okay.
Do a search for elderly services in the community. Many assisted living facilities will have much of the information available for you. The city where you intend to live most likely has an outreach program and representatives you can talk to. If there are elderly clubs, they would be a good source of information.
What Is The Community Like?
Spend a little time in the community. If you are thinking of assisted living in Clearwater, then you may want to spend a vacation in Clearwater to get the feel for the place. Many people come to Clearwater, not just for the wonderful assisted living facilities, but the great vacation they can have. Clearwater is right next to Clearwater Beach and a short drive to Tampa. Plenty of activities to keep the whole family having fun.
Last, but not least, spend some time at the facility itself. Take time to go on a tour and see how it works. Visit during the breakfast hour, or dinner hour. Stop by on bingo night or some activity night so you can see what kind of experience you or your loved one may have.
Pinellas County has a large population of elderly people. A great deal of effort is made to ensure that the elderly are well taken care of and enjoy the remaining years of their lives here. You too may find this a great place to retire and spend your remaining years.
Good Places for Information
You May Also Be Interested In
Movers For Assisted Living