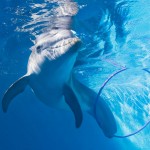 This movie is based on a true story of an injured Dolphin taking in by the Clearwater Marine Aquarium and rehabilitated. In 2005, a dolphin lost its tail when it became entangled in a rope attached to a crab trap.
The story centers around the people who were instrumental in the rehabilitation and the challenges involved. I would say more, but I don't want to spoil the movie.
The movie was filmed here on location. The sailboat used in the film is owned by a local couple who have it docked at the Dunedin Marina. If you are a local Clearwater resident you will recognize the locations in the film.
It is always fun to see your community in film, especially if it is an uplifting and positive film about an event such at the rehabilitation of Winter. It puts in light some of the great qualities of the people in the area and great blessings of living in a place where we can enjoy the marine environment all year around.
I'm not sure if the movie is out on video yet. It opened in September, and I think there is still time to see it at the theater. Take a look at your local show-times and go see it. You'll be glad you did.
You May Also Be Interested In
Clearwater Movers | A Dolphin Tale