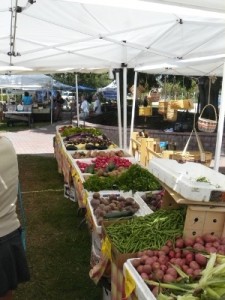 Dunedin is a wonderful little city here in Pinellas county. The Dunedin Green Market, runs from the end of October to the end of July in Pioneer Park in downtown Dunedin. It is open on Friday and Saturday mornings with different vendors on each of  the respective days.
Dunedin prides itself on being a small friendly community and this is another one of its attractions. Most of the goods on sale  are fruits and vegetables from local farmers as well as with meats, sausages, cheeses, and pastries.
Along with the local produce, there are vendors selling a variety of crafts, such as soap and hat. There is a crepe stand, a cheese  stand, jams and jellies, and all kinds of delightful surprises.
If you want to take a look at the vendors, there is a list on the Dunedin City website.
Going to the Dunedin Green Market is a great way to spend the morning.
You can take a nice walk and pick up fresh bread and vegies, then get a hot cup of coffee for the trip home. Most people who visit love the market. It is a shame that the weather does not permit the market to go all summer, but it does get nasty and dangerous come August with the lightning, thunder, torrential downpours that come along and we want those vendors back!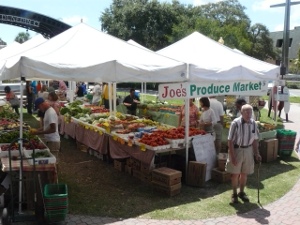 Next weekend is the last weekend for the Dunedin Green Market before the summer break. Come down and enjoy it. Then put  it on you list of things to do when November comes around the the market is open again.
Oh, and by the way, if you are planning to move to Dunedin, give you a call. We are the best Dunedin movers.
You May Also Be Interested In