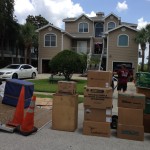 Moving is expensive and time consuming. Getting your whole family packed, making the move, and then unpacking is quite a chore for most people. There are some simple things you can do to make moving less expensive and possibly save hundreds of dollars on moving expenses.
1) Get rid of things you don't need. The less stuff you have, the less your move will cost. We all have stuff that we accumulate over time. Many of these things we only use once or never use at all. Before the move is a great time to look over all your stuff and identify things that are better candidates for the dumper than the packaging box. Some people have a rule. If you don't use it in one year, then you are not likely to miss it. Throw it out.
2) Have everything packed before the movers come. Most movers charge an hourly rate. If you have everything boxed and ready to go, you will save yourself some considerable money. When you are not ready to go when the movers arrive, things can get bogged down. Having to pack items during the move slows things down and adds cost. Do yourself a favor and be ready to go when the movers arrive.
3) Packing supplies can be expensive. Bubble wrap is expensive. Not everything you pack needs bubble wrap. When packing, think economically. Arrange items so that solid items go together and see if you can use old clothes, newspaper, and other household items to protect fragile items.
4) Start doing your move preparations early. Moving always takes more time than you think. If you plan on doing as much work as you can to save money, then you should give yourself time. Start getting rid of stuff a couple of weeks before the move. Start boxing up things a week before the move. Set boxes aside in an easy-to-get-to area. When you do these things at the last minute, you will always get interrupted by something. Don't let any interruption cost you money.
Making the move go smoother with careful planning and preparation is one of the best ways to save on a move. All the little things you do can do add up to substantial savings. We hope that these tips have helped you get the edge and save some money.