Last week we had a job that went from St. Petersburg here in Tampa Bay to Naples, Florida. We just thought we would like to show you some pictures and emphasize that we do statewide moving.In the photo below, our movers are at the apartment in St Pete loading the furniture.
When people move, most of the time, the moves are local. These are the bulk of the moves that people do. Often a couple has a baby and need a bigger place, or someone finds a 'perfect' apartment or house. Many times, a move represents a change in status, more money from the job, marriage, or children. Local moves are like this most of the time. Surprisingly, 4 in 10 people have never left the community in which they were born. This may be one of the reasons why most moves are local.
Statewide Moving
Each year approximately a staggering 40 million Americans move. That's right. 40 million. We are a mobile society, a society on the move, and we move a lot. If jobs dry up in one part of the country, we move to another part of the country. Big internal migrations happen all the time. Right now there is a big migration to north Dakota for the oil rush. In the 90's it was Silicon Valley in California. At the beginning of this century, there was a big rush to move to Florida. Boom bust cycle account for a lot of moves.
The picture below shows our movers in Naples. From the Tampa Bar Area, all of Florida can be reached in less than a day's drive. In a carefully planned move, we can have a family home moved to just about anywhere in the state in one long day. No overnight hassles.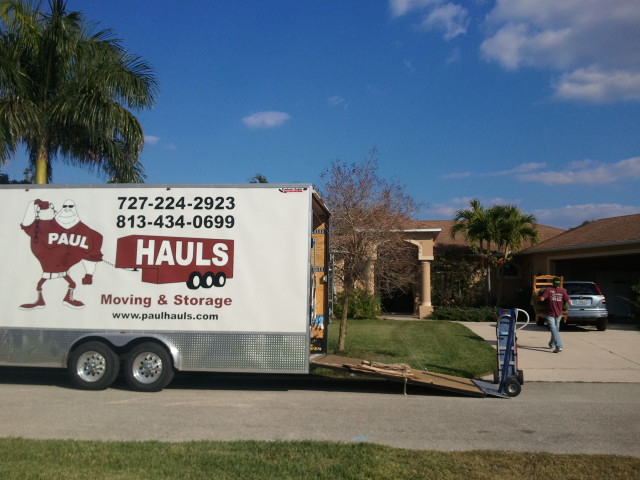 We are also a culture of immigrants. For many of us, our parents or grandparents made big moves. Maybe moving is in the genes? We love to travel and take road trips. It's big country and there are a lot of places to go. 3/4 of the population move every 5 years.
When people are moving locally, they are most likely moving for housing reasons as we stated earlier. When people move regionally, most of the time, over 40%, the reason is related to work. Even when work forces a move, many of those moves are regional or within the state. People who move out of their local area still like to be within reach of family and friends. It is much easier to stay in touch when it only takes a day to drive and visit, as opposed to having to go across country.
Statewide Moving Service: St Pete To Naples Move