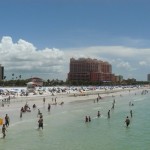 There are a lot of moving companies to choose from when you are planning a move. How do you go about making a good choice. Moving companies are not all the same. Some moving companies advertise themselves as Clearwater moving companies, but are nowhere near Clearwater, and some are not even located in Pinellas County! That only matters when you are searching for a local moving company. And for most people who are moving their homes or apartments, a local moving company will fit the bill nicely.
Bo Business With Local Movers
So, your first choice should be a local moving company. After you have decided to go with a local moving company, you need to do a little bit of research and make sure you are not getting a fly-by-night outfit offering super deal with super high hidden risks.
Let's say you search on Google for a Clearwater moving company and a bunch of listings show many of the options available locally. What do you do then? First, I would click on a variety of websites from the first and second pages and pick out a couple that you think would fit the bill.
Many Happy Customers
When you are on the moving company's website, there are a couple of things to look for. See if they have any testimonials from previous clients. Read through those and reflect on what past customers have said. After you do that, see if they have any Google reviews or Facebook likes. Those are also indicators of a quality moving company. Taking these steps will give you an idea of customer satisfaction.
There are a couple of other things that are important. Do they have a license? Most reputable moving companies will have a license registered with the State of Florida. However, some will not. Make sure that the moving company that you choose has a license. This is a must.
BBB Membership
Another indicator of quality is membership with the Better Business Bureau. Good moving companies will have a membership. The BBB is a good source to gauge the quality of a moving company. They provide a grade based on the number of complaints that have been received. A+ is the highest and means that there are no complaints of that all previous complaints have been positively resolved. Some people also leave reviews on the BBB page for a particular moving company. They are also good to read and add to your evaluation.
Once you have determined that the moving company has the quality you are looking for, you want to make sure they have the capacity you are looking for.
Large Moving Capacity
Many local moving companies have relatively small moving trucks. Paul Hauls has a 36ft trailer to load your belongings. This is the largest volume of space among the local movers. We can easily pack a 4-bedroom home into a single load. Not many of the other local moving companies can say the same thing.
Clearwater Moving Company | Making The Right Choice