When you are thinking about moving to an area, you want to find the right local mover, but you also want to know about what the community has to offer. Palm Harbor is a great community and has a lot to offer. One of the benefits of living in Palm Harbor is the wonderful parks that are located in the area.
Wall Springs Park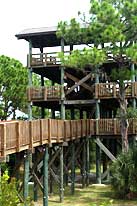 Wall Springs Park is located on Desoto Blvd. in Palm Harbor and opens up into the waters of the Boggy Bayou. Wall Springs Park has 135 acres of land and a 35ft observation tower where visitors can look over the entire park and out to the Gulf of Mexico. Wall Springs Park is a great place for the whole family. It has many amenities including bike racks, boardwalk, nature trail, fishing, multi-purpose trail, pier, restroom and playground equipment.
Wall Springs Park was built around a spring that was at one time used as a spa, although you are no longer allowed to swim in the spring. Wall Springs Park is a great place to explore the native vegetation and wildlife.
John Cesnut Sr. Park
Another wonderful park in Palm Harbor is John Chesnut Sr. Park. It is located at the southern end of Lake Tarpon. This is a popular park for the whole family. The park is home to a variety of wildlife, and there are many activities for the whole family.
Visitors can enjoy activities on the water. The park is a popular launch point for a number of popular fishing tournaments. Watersikiing and jetskiing is allowed on the water. Canoing is also a popular activity on the water.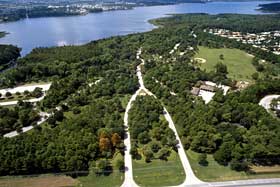 Softball fields and volleyball courts are available for the sports enthusiasts. Hikers can enjoy on of the three nature trails in the park, each approximately 3000 feet long.
John Chesnut Sr Park also boasts 13 picnic shelters with grills, boat ramp, fishing pier, two playgrounds, horseshoe pits, and water fountains among its many amenities. It is a wonderful place to visit and one of the reasons Palm Harbor is an attractive place to live.
John Chestnut Sr. Park is about 255 acres and is used by many people from the local communities in Palm Harbor, Tarpon Springs, Tampa and the surrounding communities.
John Chestnut Sr. Park includes a dog park .
A. L. Anderson Park
A. L. Anderson Park has a Tarpon Springs address, but it is a popular park just north of Palm Harbor, so we will include it in our Palm Harbor park review. Anderson Park is 139 acres acquired of the last 40 years. The park was opened in 1966 and has continued to grow over time with additional land purchases.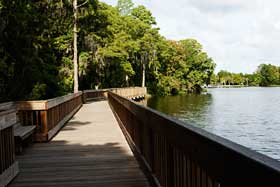 Anderson Park has fishing access to Bay, a boat ramp (fee charged), a dog park, boardwalks, nature trails, playground, and nine picnic shelters. Anderson Park has a beautiful elevated boardwalk over 470 feet along the Salmon Bay shoreline.
Mover Insights: Palm Harbor Parks