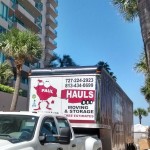 April marks a seasonal change here in South West Florida. Spring break represents, not just a holiday for college and high-school students, but a change in the weather and culture. Many of the activities that mark the busy tourist season start to slow down and the balmy, humidity-free weather starts to change to the summer patterns.
If you blinked a couple of weeks ago, you may have missed spring. That is what people say. But we are in a sub-tropical climate zone, so we do not get spring. There are really only two seasons in our part of the world: winter and summer. When the humidity escalates and scattered thunderstorms pass by in the afternoons, you know that the summer pattern has set in and the balmy days will not come back for another six months.
Nonetheless, the busy moving season begins now and goes until kids head back to school. For us, it is all hands-on-deck for the next four months. And that is the way we like it. But I digress. I promised some pictures of April moves, so here they are. From moves in Tarpon Springs, Gainesville, and Crystal Beach.