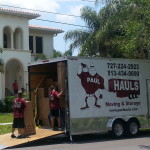 Busy moving season is shaping up this year. People are moving like it was 2005!
This has started out to be a very busy moving season. We at Paul Hauls have not experienced this much demand since 2005, or so it seems. People are buying homes and moving quite a bit this moving season. One of the reasons is the hot local home market.
There were a lot of investor purchasers last year that drove up the real estate market, but not so high as to be a bubble. What happened is the increase in value help people recover some of the value in their homes. At the same time, the prices remained low enough so that people who intended to make the home a place to live were still able to buy at reasonable rates.
Tampa seems to be a destination. In the last year, there has been a strong influx of people into the area. This is probably one of the major reasons for the busy moving season. Traditionally, people move over the summer, so there is usually plenty of activity.
This year, the desirability and affordability of the local Tampa homes is making this year especially busy. If you are doing a move this summer, you may want to arrange for moving services well ahead of moving day. Oh, and watch out for the low budget movers. Don't get stuck on moving day.
Interested in some info on the local real estate market, check out some of these articles below.
You May Also Be Interested In
Busy Moving Season In 2014