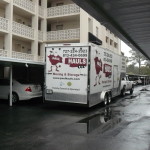 A couple of days ago, two of the national moving carriers released their migrations studies: United Van Lines and Atlas Van Lines. These studies are released each year around this time and show where people have been moving to and from in the previous year. If you are moving from Tampa to Clearwater or or Pinellas to Pasco, this information has little relevance, but it is interesting to see what is going on with the people. Americans move more than any other people on the planet by a long shot.
Where Did People Go?
The studies show which state had the most people move out and most people move in. The United Van Lines study largest move in state (not really a state) was Washington D.C. The largest move out state was New Jersey. The other states are listed as balanced. The biggest trend was the continuing exodus from the North East. Michigan, Wisconsin, and Illinois were all big move out states. However, by the looks of the map, the Carolinas and Oregon and Nevada, were the most popular destinations. This year Florida was listed as a balanced state: about the same moved in as moved out.
The Atlas Van Lines study was slightly different. However, the big trends were similar. People are moving out of the north and heading to better climates in the East and the West. These migrations usually reflect job prospects and the state of the economy. People move to find better jobs (or just jobs) and stay put when things are going well.
You can look at the articles in the links below.
http://www.unitedvanlines.com/mover/united-newsroom/press-releases/2013/2012-united-van-lines-migration-study.htm
http://www.atlasvanlines.com/news/2013/0001/where-is-america-moving-atlas-van-lines-announces-2012-migration-trends/
You May Also Be Interested In