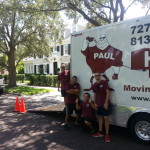 The holidays have just about come and gone. The only festive occasion left is New Year's Eve, then it will be back to work and school. We hope that all of you have had a great holiday filled with blessings and wonderful family get togethers.
Christmas in the tropics is not like up north: no snow, no freezing cold storms. Winter in the tropics is balmy and comfortable. Unless you are a local, of course. Then, when the weather dips into the low 70's you may feel a little chilly. The cold does not last long. A month or two of moderate temperatures and we start heading back up to the mid 80's and all is well.
Thanks to you, our wonderful customers, 2013 was an outstanding year for Paul Hauls Moving and Storage. We were moving local families non-stop the whole year. During summer, we were so busy that the crew didn't really catch a break until September, and that is a good thing.
What is in store for 2014? We hope to be able to continue to provide excellent service to local customers and continue to grow. But as we grow, we will not sacrifice customer service. Our business is founded on excellent customer service and it will move forward with excellent customer service.
You May Also Be Interested In
Season's Greetings From Paul Hauls