We picked up a couple of stories around the country that you may be interested in.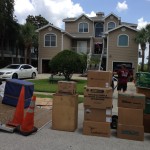 Friendly neighbor gone bad. Here is some mover news coming out of Alaska. There are all kinds of mishaps that can take place when moving. This little mishap took place in Alaska. It had nothing to do with moving scams. It does show, though, that moving crews need to show discretion. If the owner is not home, do not enter the house with a 'friendly' neighbor! If you do, you may be in for an unpleasant surprise like the movers in this story.
Busy Peek Moving Season. Evidently this was a busy summer for movers around the country. United Van Lines came out with their annual report on the summer moving season. It looks like there was a lot of action on the West Coast. The Northern California up to Canada was reported as the region with the most growth based on moving activity. Although Tampa was not in the top ten in either move-in or move-out categories, it got a mention at the bottom or the article. It seems that many people are moving from the north to the south and Tampa is getting some of the action.
That is good news for movers if the trend continues. We can tell you that we have barely had enough time to breathe here at Paul Hauls. We have been working non-stop since May. And September is showing no signs of slowing down.
Some July Real estate Stats for Pinellas. The stats show a steady rate of sales with a slight decrease in the time it takes to sell a house. This is not earth shaking news. However, it is good news for the area. Sales are steady and value is going up. This is probably realted to the United Van Line report of people moving north to south here on the East Coast.
Mover News Spetember 9, 2013