Summer is the busy season for moving. Kids are out of school and there are good deals to be had in the housing market. But summer is also a busy season for thunderstorms, tropical storms, and hurricanes. Here in Pinellas County we have just had a couple of wet weeks. This is not unusual in the summer. Our tropical climate lends itself to this type of weather. Wet weather if fine. It is the more dangerous tropical storms and hurricanes that we need to be worried about.
Hurricane season starts on June 1st each summer. When a storm gets strong enough, it is given a name. A storm is named when it reaches tropical storm strength with winds of 39 mph, and becomes a hurricane when its wind speed reaches 74 mph. Last year there were 19 named storms. It was the third most active storm season on record (Source: http://en.wikipedia.org/wiki/2012_Atlantic_hurricane_season).
Right now, the hurricane season is in full swing and about to enter its busiest period. So,if this year is anything like last year we may be in for a little excitement.
Getting Back To Tropical Storm Chantal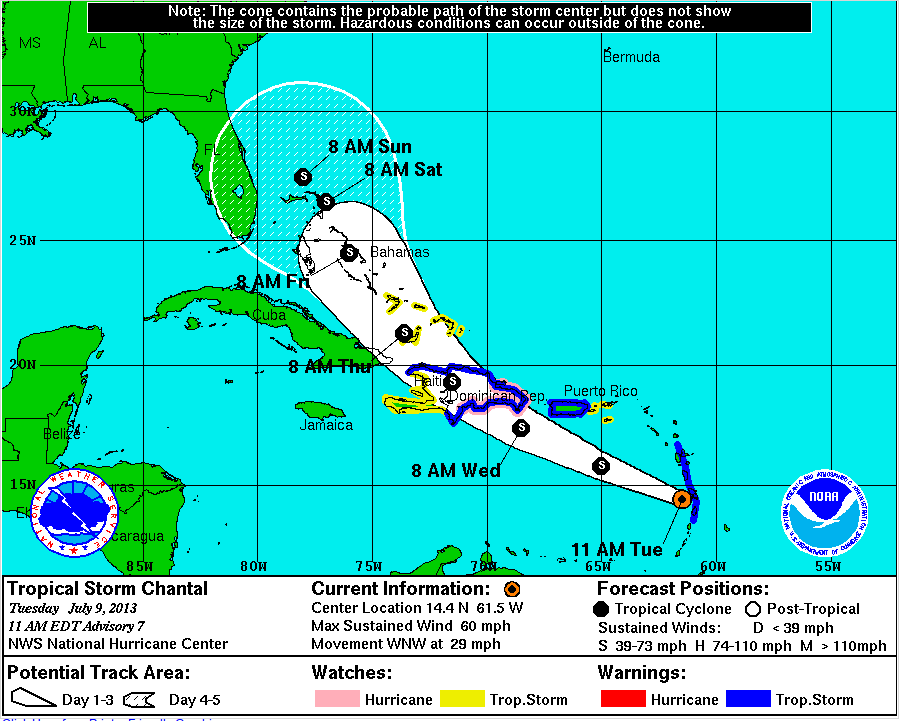 The third named storm is right now heading towards Florida. From the looks of the current chart, the storms looks like it is heading in the direction of the east coast of Florida. That means that over here in Pinellas County, there is not too much to worry about. However, we all know that the direction of the storm can change and come right towards us. That is why it is important to be prepared, regardless of what the weatherman is saying.
Do You Have A Survival Kit And An Action Plan?
When you hear about a tropical storm coming in your direction, you should monitor the situation by listening to the radio, checking in on the Internet for weather or watching TV for the latest forecasts. You should also have a survival kit and an action plan.
Survival Kit
Here are some essentials for a survival kit in case you get stuck on the road or in your home during a hurricane.
Plenty of water. Have at least 3 days worth of water.
Flash-lights, Lantern, Candles, Matches
A Small medical kit like campers have
A generator
3-5 days worth of food
A portable toilet (porta-potty)
Radio
Batteries
Cell phone
Camp stove
Action Plan
Know the hurricane evacuation route in your area
Have a plan!
Be Safe
We at Paul Hauls want you to be safe. So, take the proper precautions during the hurricane season to ensure that you and your family are ready to take action if necessary.
Tropical Storm Chantal Is Heading Towards Florida