Local Movers Safety Harbor. We recently moved a Clearwater family to Safety Harbor, Florida. You will notice the PODS in the picture. We unloaded those on site, a service we provide by itself to clients who need it. On this occasion we unloaded the PODS and brought items that were overflow from the PODS and had been kept in storage before the move. So, on this job we did the standard move service that we provide and PODS unloading.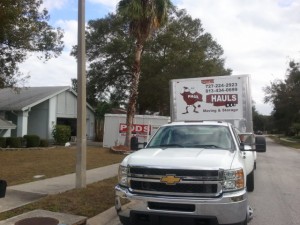 PODS are interesting in that the PODS themselves are just containers. You can actually get bigger containers from other providers and put all your belongings in them. They are transported just like freight. This is common when people move overseas and need to bring everything with them.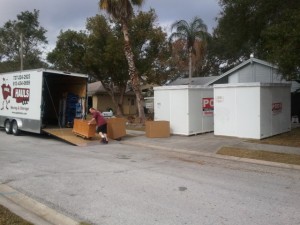 Let me just say one thing about using this type of service. We can load and unload for you, and that is a service you may want to consider. Loading moving containers is not as straightforward as it may seem. It takes know-how and some skill to pack a container so that you get all the capacity you bought without wasting a lot of space.
Additionally, when you are going with this style of move, give us a call. We can often arrange for the container (or a truck), pack all your belongings into the container, and to it all at a price point that will very close to what you can get if you were to order a truck or container alone.
Local Movers Safety Harbor Fl – PODS Unload